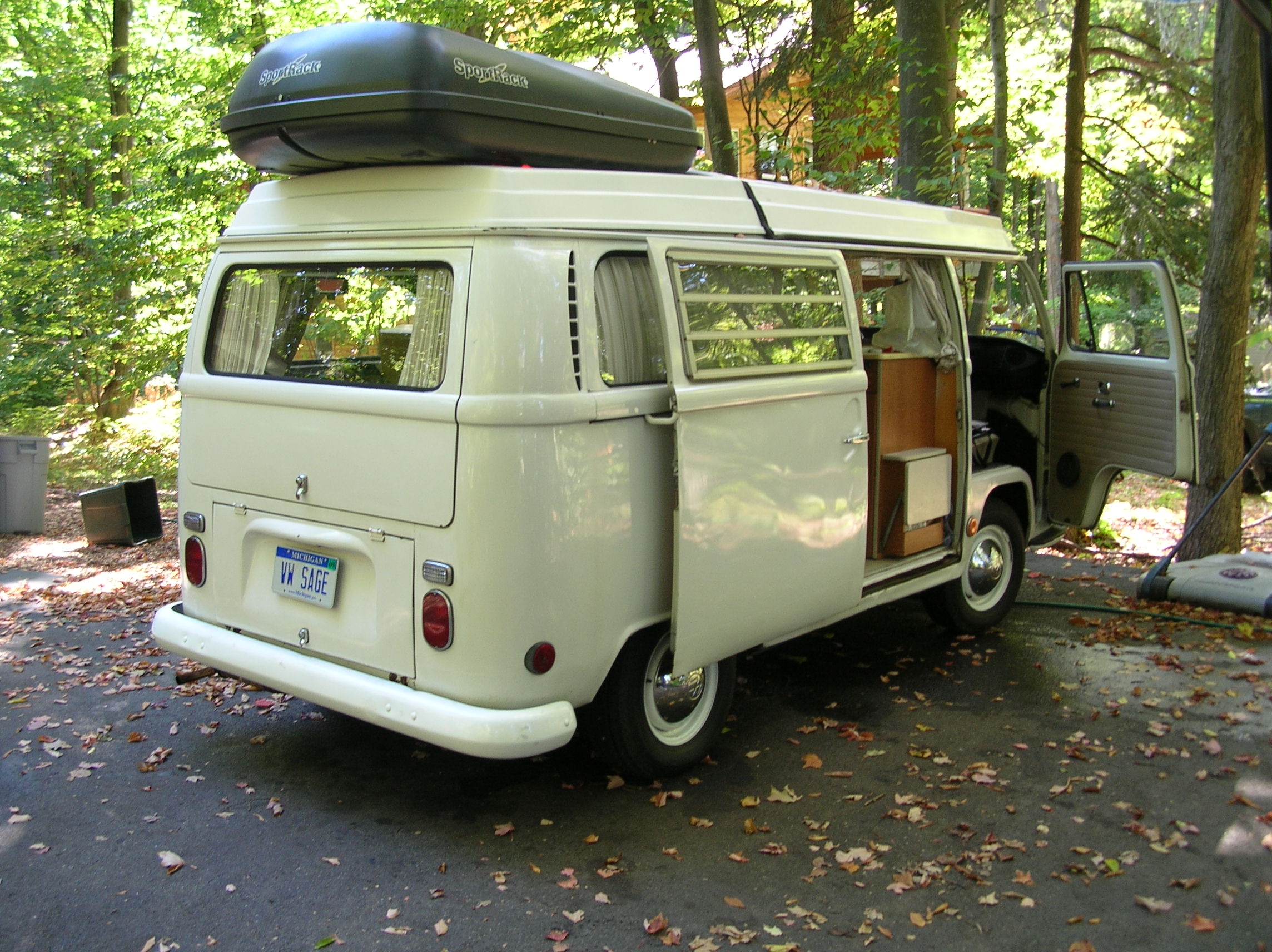 Two significant things happened in April of 1969. Likely the first thing was this Bus was manufactured in Wolfsburg. Later, I was born.
In August of 69 a young bookstore owner and his wife purchased this bus new from the dealer in Traverse City.
He took care of this bus. It carried he, has wife and child across the US down the coast of California, and the Trans Canada. To say there is a bit of Vic's soul in this bus isn't an understatement.
37 years pass. Trips to Canada, trips around Michigan and the mid-west. The bus lasted past leaving of his daughter to college and marriage, and grand children. It was there when his beloved wife pasted away.
When I started this project, a few people hear about it. Vic was one of them. These days, he drives a Euro Van Weekender. He has a new wife, and a son adopted from Guatemala who attends the same school that my kids do.
Vic isn't a chatty guy, starting a conversation with him sometimes strikes me as an invasion of his privacy. But he is very nice, and he likes to talk about his bus.
I first asked about it a while ago. Just in passing. A hint was dropped about selling or buying, I don't remember which, but after a few months I got up the nerve to ask about it.
"Joesph loves that bus, he wouldn't want to see it go." he says. OK
Then out of the blue, I see him and he starts the conversation.
"I want to see the bus, but I will only sell it to someone who knows how to fix it. It needs some work, and I wouldn't want to sell it to someone who doesn't know how to fix it."
We talk, and after another six months, I show up to his house and we take a test drive. The bus pulls to the right, he uses a paint stick to keep it running while it warms up. The interior is emaculate, the exterior has been repainted, and it seems to have been done fairly well.
He is uneasy when I tell him I will buy the bus. The money and title are exchanged, and I am off to do some washing and polishing. Since purchasing it I
Rebuild the Brakes
Sandblasted and paint the wheels and bumper
Sandblast the frame and underbody and paint with Por15
Replace the hubcaps, and a number of other things
Fix the Oil Bath, breather tube and a number of other things in the engine area.
Re-weld the bumper brackets and repair the front valence.
Clean the interior
This happens all summer of 2007. In October, I decide I have been off the road too long and I need to do a road trip. The plan (outlined in another entry) is to drive out to Colorado, then back home via the Trans Canada Highway, a road this bus has driven before.
As a result of this trip I replaced the Distributor, wires, points, plugs and condenser. Now she has sprung a leak of oil somewhere…but it is a sweet bus.