June 1993 acquire 1977 VW Campmobile.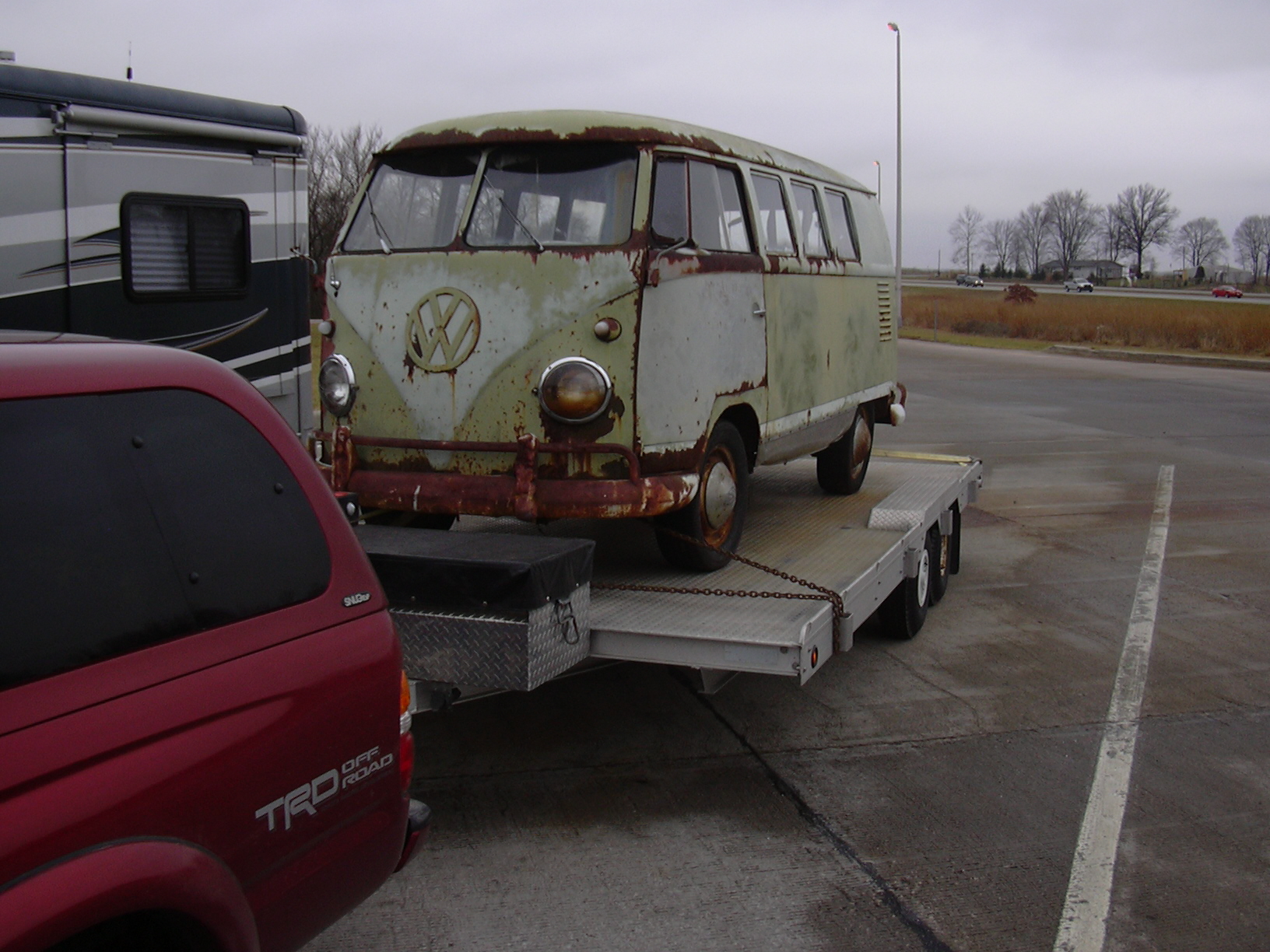 December 2005 Purchase 1960 Standard Mango Walk Thru Microbus
January 2006 Retreive the 60 bus from St Louis area.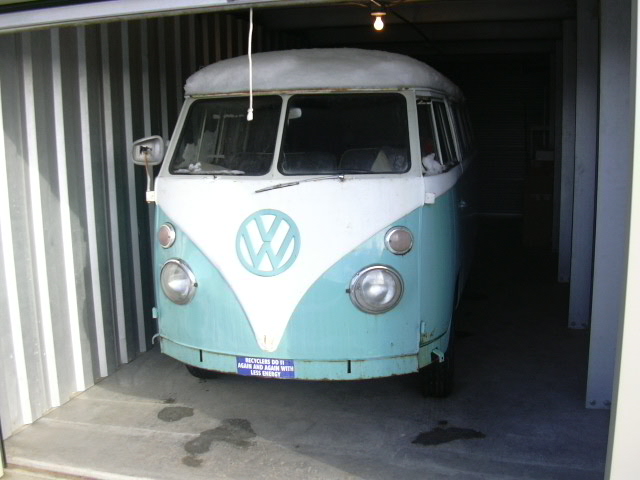 January 2006 Aquire 1964 Panel converted Camper
February 2006 Start Engine Rebuild for 1977
March 2006 Find Fred Olson's Buses (61 DC, 60 Panel, 66 Deluxe)
April 2006 Purchase camper interior from Canada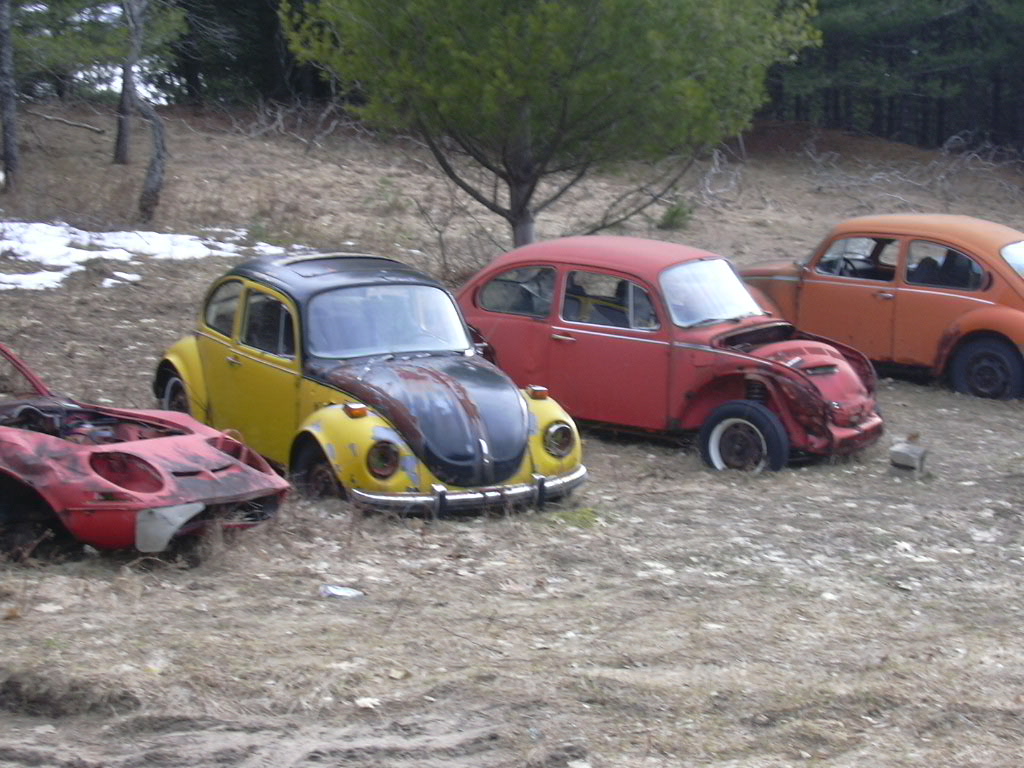 April 2006 Find Ken Foster VW Nest
Nine Type 1
Two Type 2
Two Type 3
Two Ghias
One 412
1958 Chevy Belaire
1965, 1964 Ford Galaxie
1953 Chevy 210 Handyman Wagon
May 2006 Aquire double axle Trailer
May 2006 Travel to Michigan VW Show
Take 56 Ghia, lose trailer.
May 2006 – September 2006 Move Cars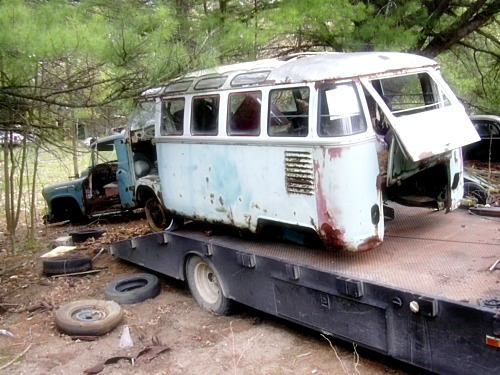 Part out Bugs, crush 7
Keep 56, 61 Ragtop Bugs
June 2006 Colin Kellogg visits
Shows me all about VW Engines
Discuss the IAC Forum
August 2006 Fred Olson Purchases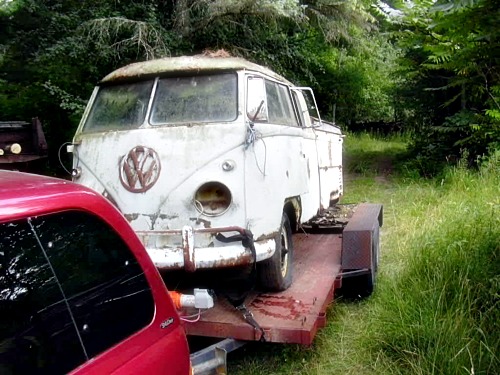 1961 Double Cab
1966 13 Deluxe
Trim the Nose off the 1960 Bus
August 2006 Parts Sorting at Tommy's
Part out Galaxies
Part out Bel Aire
Part Out Type 3
Crush all Super Beetles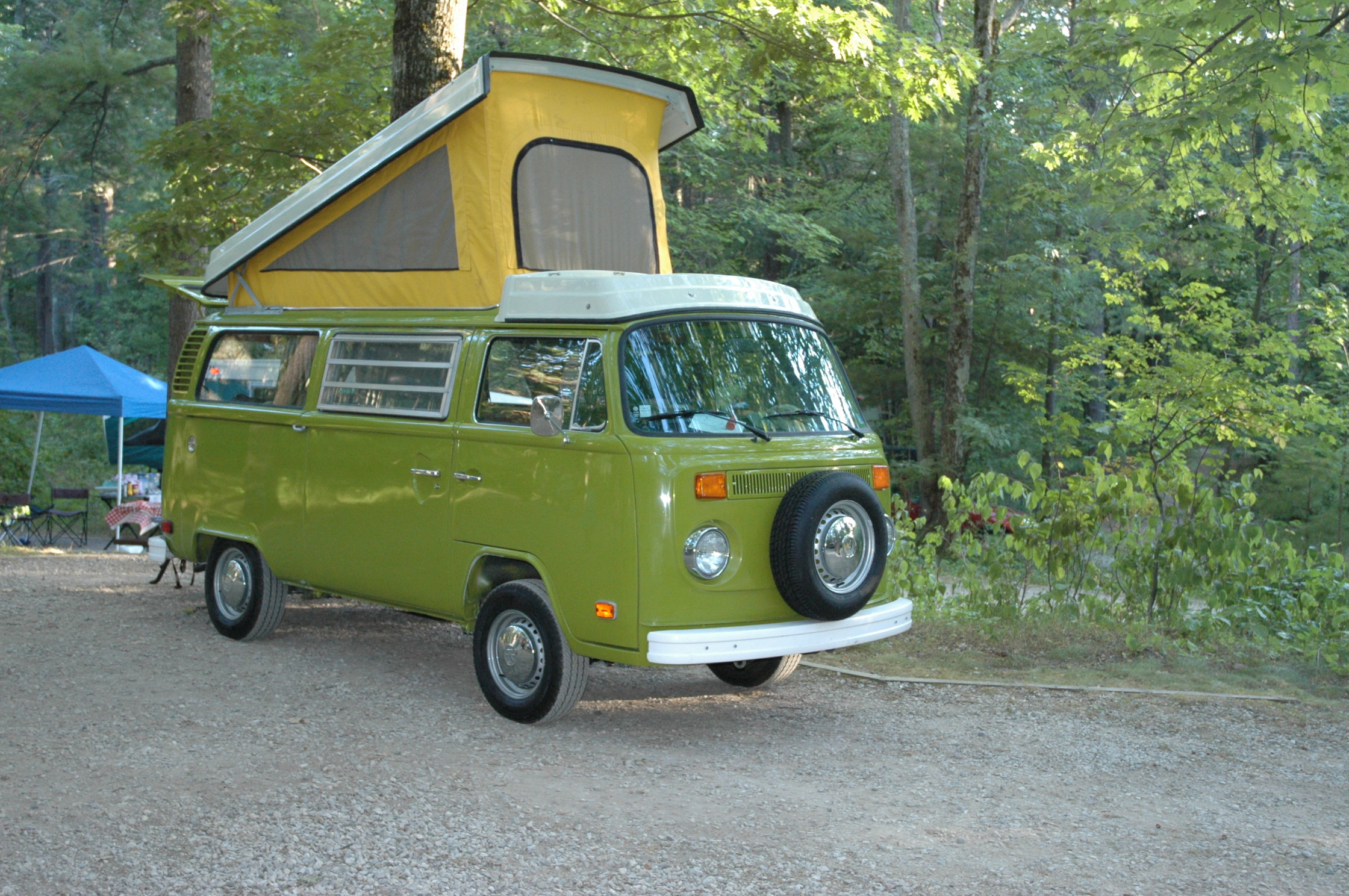 September 2006 – May 2007
1977 Restoration and Painting
Strip old paint
Put new coat on
Re-install engine
Drive it
October 2006 Aquire 1963 13 Deluxe from Jerry in the U.P.

October 2006 Eviction notice from Tommy's property.
Part out Vehicles and sell for scrap

Remaining Bugs
Bel Aire is Crushed
1966 13 Deluxe
Ford Galaxies
December 2006 Sell Chevy 210
January 2007 Buses by the Bridge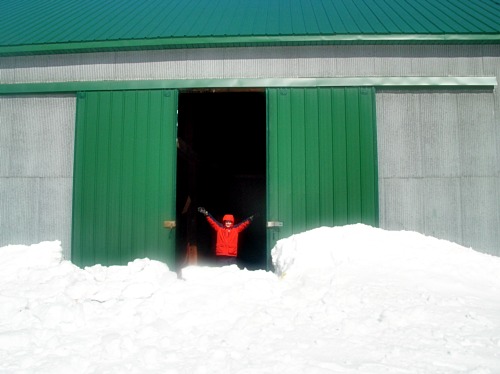 March 2007 Rent Barn Start
April 2007 – June 2007 Move Vehicles
June 2007 Aquire 1969 VW Westy
Replace Brakes
Stabilize Rust
July 2007 – December 2007 Start sorting parts, finish projects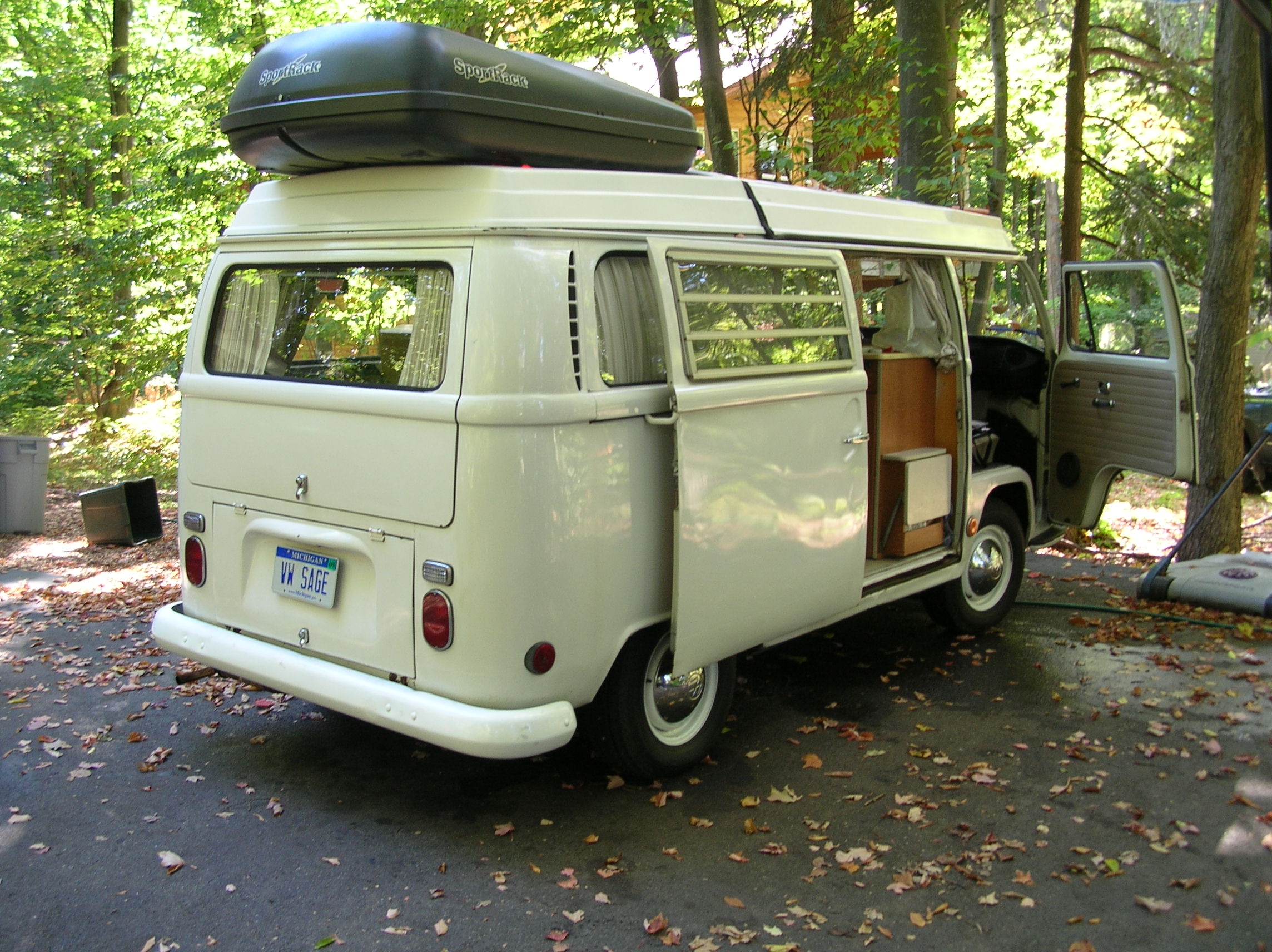 October 2007 Road Trip in 1969 Westy
Distributor Fails in IA
Meet the Great Russ Wolfe
Visit 11 States in three weeks
January 2008 Start prep for 1969 Squareback Type 3 for Wife.
February 2008 Frozen out of Barn
February 2008 Rebuild 1969 Westy engine
March 2008 Regain entry to Barn

April 2008 Everybus Show
May 2008 Sold the 1969 Westy
June 2008 Litchfield Bug In
July 2008 1977 Westy is completed
August 2008 Type3 Invasion in Ypsilanti
Dented in the rear of my truck when strap failed. Removed brakes at show.
August 2008 Colin visits for a second time.
September 2008 Squareback restoration is begun.
September 2008 Cory blows up 1969 Westy Engine.
He blew a piston on a camping trip
October 2008 Purchased Single Cab and stripped it.
Here are the Air Cooled VW's I have owned or own.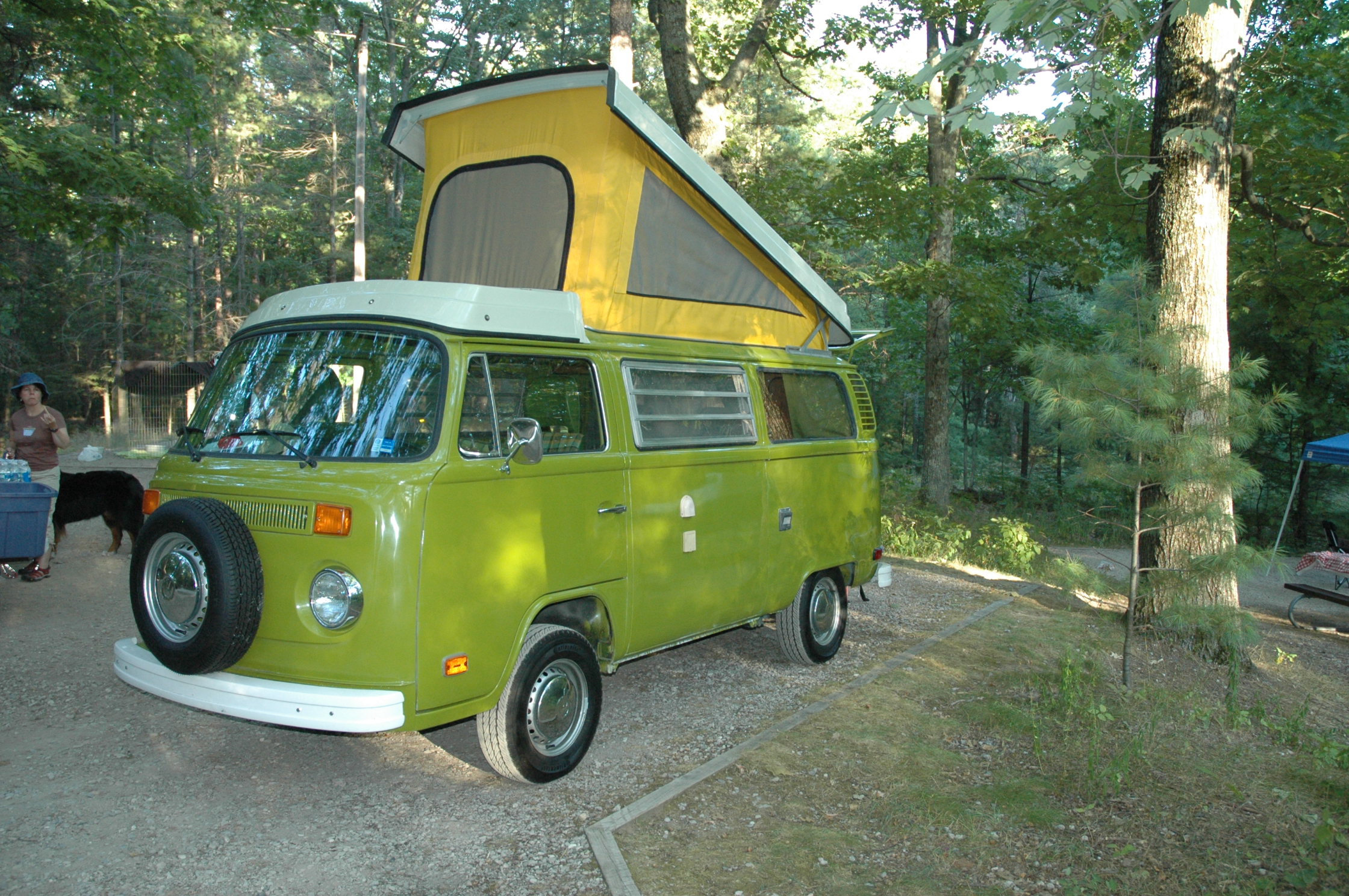 1977 VW Campmobile Westfaila – Aquired June 1993, Grand Rapids, MI. Traveled through 21 states, 2 countries. Repainted, Rebuilt engine 2007.
This has been restored completely. Rebuilt top end on the engine, paint completed, new coat on the roof, interior panels restored, and all the missing parts replaced. Let's face it, I asked my wife to marry me in this bus, and children have been conceived here. This is my baby.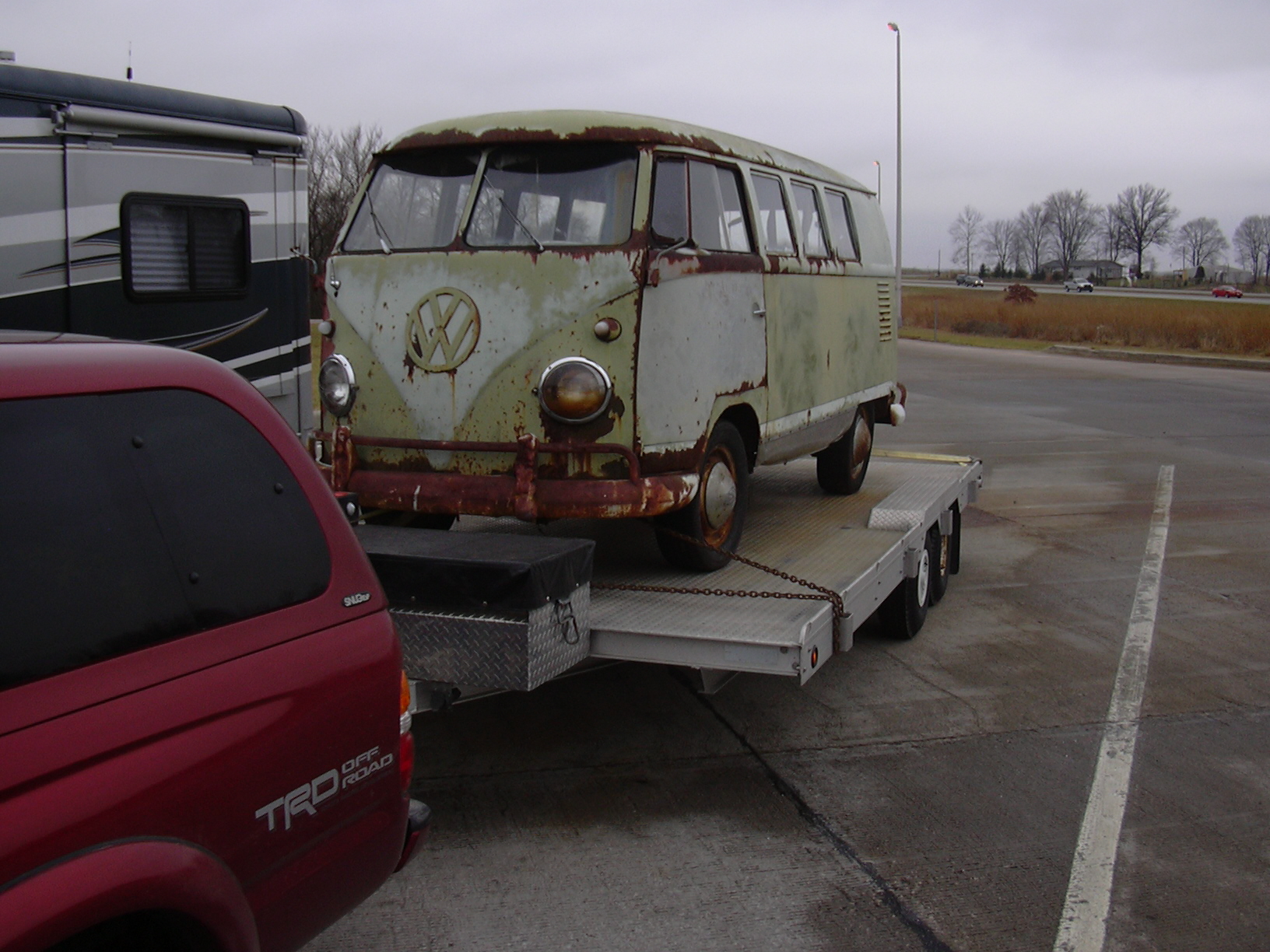 1960 Standard Mango Walk Thru. Purchased in December 2005. Really rough condition, but a rare model. Was ready to restore when I found the VW's at Fosters. Sold in June of 2006 to buyer in Miami, took 7 months to get the buyer to take delivery. Saw it for sale in 2007 with a working engine and new brakes. I wish I kept this, but too much of a project for a starter.
To this day, people ask me about this bus.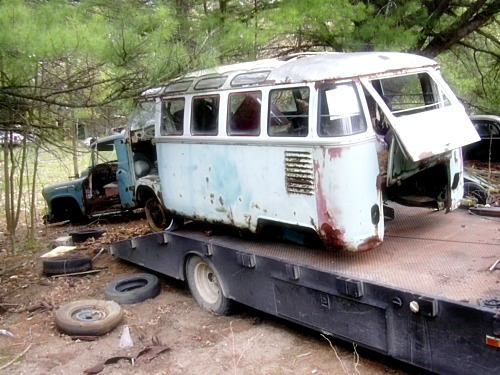 1962 Microbus 23 Window Deluxe. Serious project to restore. Frame solid, 85% complete. Have Transmission and Engine built. Plans include a strip and e-coat, and complete interior and exterior resto. 5 year plan.
Have correct seats, engine, all the trim, a RGB Transmission, Glass. I need replacement parts for rockers, rear corners, floor, belly pans, and dog legs. Will need interior wall panels, new upholstery, and various gauges will need to be rebuilt. Found in the "Nest" find along with 21 other VW's
1965 Microbus Deluxe Hardtop. Hammered condition, will be a donor for the 23 Window project. Caved in roof, rotted frame, original gas heater, walk thru. If the frame wasn't gone, it might have been a keeper. The PO cut the wells, and put all kinds of additions to it. Has many valuable parts, but it will be scrapped. Of the22 vehicles I purchased at"The Nest" Only 5 remain. The others had useful parts that went to needy VW owners, but were too far gone.
1961 Double Cab This was found at a recluse's home near me in 2006. Missing the transmission and in need of floors, it is a second tier project. It might get sold prior to me working on it. EDIT: In August 2008, I located a 61 Single Cab that had many donor parts.
It came with a galvanized sheet metal "Tondu" cover that has the original hoops (cut down) weld to it.
1964 Panel After market Camper Conversion Found in a parking lot at the campus of Northwestern Michigan College. Purchased from a student needing to make tuition. Had no interior originally, but I located a good interior in 2006. Purchased February 2006. Engine work fall 2008, brakes in spring 0f 2009.
This will be a fun bus for someone who I will sell it to in 2009.
1958, 1956 Ghia Coupes
Found in the "Nest" find. The 56 could be restored, the 58 is nothing but parts. Will be parted and sold by late fall 2008.
1969 Type 3 Squareback Found in the "Nest" and my wife fell in love. Currently restored without new paint. Engine complete fall 2008. New brakes, interior, tires, and lots and lots of scrubbing. Will eventually paint it, and make sure the heat works. Mrs. Sage plans on this becoming a summertime daily driver. We plan on getting a luggage rack and shoulder belts for the back seat.

1963 Microbus Deluxe 13 Window Decent condition. Purchased in the U.P. at a salvage yard. Owner claimed to have a barn door, but died before I could track it down. Came with an original middle seat. Needs brakes and a good cleaning. Has an unidentified paint color on the M-code. Was originally delivered to Washington DC, but ended up in Wisconsin, then must have broken down in the U.P. Spring 2006.
1969 Deluxe Westphalia Camper Born the same month I was. Purchased from the original owner in Spring of 2007. Restored engine, cleaned it up, replaced the brakes, did minor repairs. Sold in the spring of 2008 to a mutual friend for the PO and myself. Nice bus, but I had a baywindow camper. Took it on a road trip before selling.
Other VW's owned but not kept