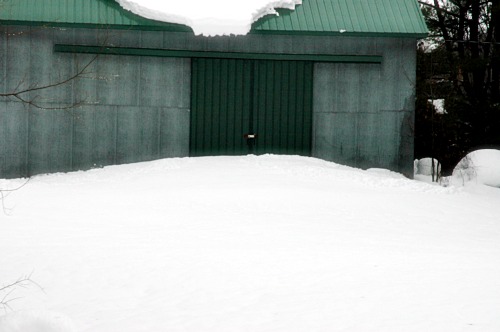 This winter has been a tough one. The snow flew early and that curtails the time I can spend working on VW's.
We had more snow in December than ever before. January hasn't been any better. My kids are enjoying the snow days. The picture here show only what hit by mid December, double the height today.
I have focused on other things; work and getting my plans together for next year. 2009 will be the year of the great reduction.
I expect to be cleaned out of most of my non project VW stuff by July. The rest will go to anyone who wants it. I have started listing several things, but in some cases, they won't be able to be delivered because every thing is snowed in.I have listed a 1963 Squareback for sale
at The Samba. This car is once again a mess, and once again pretty rare. I don't know why we have so many first model year cars up here, but we do.
I need to list a bunch of small parts too. They begin next week.
I have decided that what I really want is to restore the 23 window. The double Cab, and the other splits are cool, but it is time to follow my heart on this one.
It has been interesting to watch the effects of the economic melt down on the VW hobby. I am getting my finances more organized, but in general, my financial strata is unchanged. If anything, my phone is ringing off the hook more than last year. This will mean less time to work on VW's. It does mean more money for the budget. If I cut it down to just the 23, I might figure out a way to save on rent, but the barn is still a deal and a half.
All this stems from a new interest I have; I want to hike across Michigan. It will be a 235 mile hike in all, using nothing but trails and forest roads. With the loss of Polar, it might be set back a while. I still miss him.
Last year I was glued to the VW forums, this year, not so much. I find myself posting garbage in the "Off Topic" on the Samba, much of which gets deleted.
Maybe this is the end of the chaos portion of some mid life crisis. Now all I have left is the work to get things done. I look at guys like Lou and think how cool it would be to spend the rest of my life just cruising around in a bus with Mrs. Sage. She won't go for that, but it never hurts to ask.